Vein Care Specialists, varicose veins, spider veins, deep vein thrombosis, sclerotherapy, evlt, cooltouchev, numbness in legs, salvador yunez md, dr. salvador yunez, vein care specialists ltd, veincare, veincare america, midwest vein, vein care americas, pain in legs, burning in legs, vein clinics, laser treatment for veins, laser technology for varicose veins, get lasting relief for varicose veins, 800-994-vein, 1-800-994-vein, leg compression, compression therapy, trivex, phlebectomy, vein desease, swelling of the legs, cramping of the legs, leg cramping, leg swelling, tingling in legs, leg restlessness, itching of the legs, itching in legs, phlebology, endovenous laser treatment, endovenous
ABOUT VEINS
TREATMENT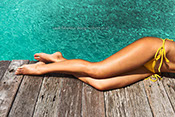 PAYMENT IS EXPECTED AT TIME OF SERVICE, UNLESS PRIOR ARRANGEMENTS HAVE BEEN MADE, OR IF YOUR INSURANCE COMPANY IS MEDICARE, BLUE CROSS-BLUE SHIELD, OR UNITED HEALTH CARE. (THESE ARE THE ONLY HEALTH PLANS VEIN CARE SPECIALISTS, LTD.
IS CONTRACTED WITH).
The fee for the initial consultation is $150.00. This includes a hand-held Doppler examination. However, your phlebologist may deem it necessary to perform a Venous Duplex Ultrasound of your legs. This is an additional charge that is reimbursable by your insurance company. This state-of-the-art non-invasive diagnostic test is indicated if you have varicose veins. It is usually not performed if you present with cosmetic spider veins only.
Vein Care Specialists, Ltd. will gladly file all the necessary paper work on your behalf for the pre-certification and pre-determination of medical necessity for your procedures. We will also file all your claims with the exact procedural and diagnostic codes to ensure you receive maximum reimbursement. Almost all insurance carriers will refuse reimbursement for the treatment of cosmetic spider veins, therefore, no paper work will be filed for this condition.
Vein Care Specialists, Ltd. does not falsify any procedural or diagnostic codes.
Patients with delinquent balances greater than 90 days may be turned over to a collection agency.
The itemization of charges estimate, which is based on your personalized treatment plan, is only an estimate. Although mostly accurate, we cannot guarantee that it will be 100% correct.
All of our procedures are done in our facilities. Be it an office setting or an office-based ambulatory surgical setting. You will therefore have no surgical assistant fee, no anesthesiologist fee, and no hospitalization fee. Furthermore, since there is little or no convalescence, you will not lose many work days, if at all. Clearly, our procedures are very cost-efficient when compared with the additional fees and loss of wages associated with stripping (the old-fashioned way of treating varicose veins), that could reach $10-12,000. Many times, our total fees represent your 20-30% co-insurance that you are required to pay in a hospital or surgical center setting.
© Copyright 2014-2020 Vein Care Specialists, Ltd. All rights reserved. Not all patient candidates will qualify for treatment. Main Office: 712 N. Dearborn Street, Chicago, IL 60654
BACK TO TOP